Chunky Apple Spice Cake With Vanilla Butter Sauce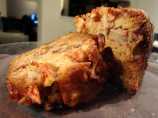 Photo by buttercreambarbie
Prep Time:

10 mins

Total Time:

50 mins

Servings:

12
About This Recipe
"This cake is good, I mean REALLY GOOD. If you use real vanilla extract the flavor is amazing. I have had a friend just pick at an entire meal because she knew I was serving this for dessert."
Ingredients
1/2 cup butter, softened

1 cup firmly packed light brown sugar

2 eggs

2 teaspoons pure vanilla extract

1 cup all-purpose flour

1 tablespoon pumpkin pie spice

1 teaspoon ground allspice

1/2 teaspoon salt

2 cups peeled and chopped apples ( Granny Smith or Gala)

1/2 cup chopped walnuts

1/2 cup raisins (optional)

1 1/2 teaspoons baking powder

Vanilla Butter Sauce

1/2 cup butter

1/2 cup whipping cream

1 cup firmly packed light brown sugar

2 tablespoons pure vanilla extract
Directions
Preheat oven to 350°F degrees.

Beat butter and brown sugar for 5 minutes in a mixer bowl.

Beat in eggs and vanilla just until blended.

Set aside.

Mix flour, pumpkin pie spice, baking powder, allspice and salt.

Gradually add to sugar mixture; beating until well blended.

Stir in apples, nuts, and raisins, if desired.
Page 2 of 2
Chunky Apple Spice Cake With Vanilla Butter Sauce (cont.)
Directions
Pour into one greased 9-inch baking pan; bake 35-40 minutes or until toothpick inserted in center comes out clean.

Cool on wire rack 10 minutes.

Serve warm with Vanilla Butter Sauce.

Vanilla Butter Sauce:.

Combine butter and whipping cream with brown sugar.

Bring to boil over medium heat.

Reduce heat; simmer 10 minutes or until slightly thickened.

Remove from heat; stir in vanilla.

Serve warm.

Do-ahead Suggestion: The cake and sauce can be prepared and refrigerated separately the day before.

Warm the cake, in the oven, and the sauce, on top of the stove, before serving.